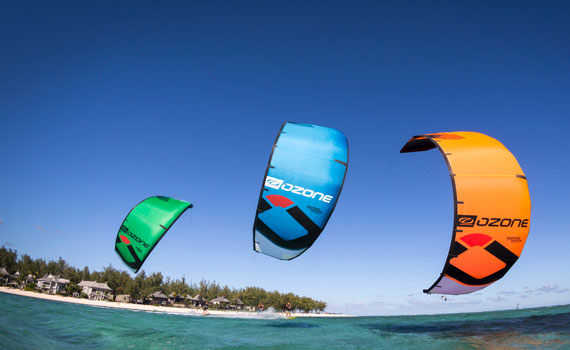 As the UK distributors for Flysurfer and Ozone we have a great selection of kites with something for everyone. From trainer kites to easy to use three strut all rounders, to high performance freestyle and freeride. If you are looking for high end competitive race and freestyle kites we also have you covered!
FLYSURFER KITEBOARDING
Flysurfer are based in Germany and pioneered the closed cell foil kite concept. Whilst the brand is well known for these models it also has single skin and inflatable kites in the range. The company are all about design, innovation and customer service. Find out more about Flysurfer in the UK.
OZONE KITES
A UK company with a manufacturing facility in Vietnam and staff around the globe – Ozone has established itself as a leader in the kitesurf market. Their factory has a reputation for the best build quality in the industry. Wiith a comprehensive range of kites, there is something for everybody whether you are after the highest level of performance or simply just looking to get into kitesurfing safely and easily. Find out more about Ozone in the UK.
Showing 1–24 of 28 results